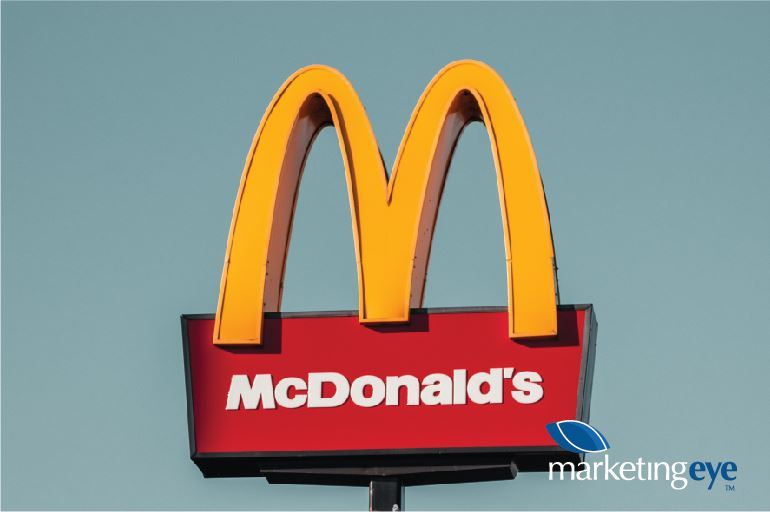 At Marketing Eye, we appreciate and learn from the world around us, particulatly the marketibg world. We are inspired by creative campaigns in our environment by our fellow marketers.

Here are some of the Marketing Eye Melbourne office's favourite recent marketing campaigns.

Mc Donald
'
s Australia -
Our Food, Your Questions Campaign
McDonald
's is one of the world's most popular fast food restaurants, so it's no surprise there are some negative myths and rumours about their products. To address this, they created a new campaign to educate its consumers about all things beef, chips and shakes. The centerpiece was a website where people could ask any question they could think of. Questions included "Why are thickshakes half air?" and "Do you use GMO in Australia?" A dedicated Response Team who used images, infographics and videos answered every food question thrown at them. The answers were then shared on Facebook, Twitter and Google . The website was promoted in
restaurant
s, on TV and radio, as well as on social media. This campaign is about honesty and integrity. Customers value trust and transparency with any brand.
Virgin Mobile Australia
- Virgin
's meal for a meal
Everyone has that Facebook friend who loves posting their weekend big breakfasts, or their most recent superfood salad. That person might even be YOU! The irony of a 'news feed' is that all those food pics don't feed anyone at all. However, Virgin Mobile Australia found a way to build their brand awareness and feed those less fortunate at the same time. It was simple, all people had to do was tag photos with #mealforameal in their Instagram, Facebook or Twitter food pics and Virgin would donate a meal through their partnership with OzHarvest, a non-denominational food charity. They also had chefs like Adriano Zumbo, George Calombaris, and even Jamie Oliver participating with their own delicious images. The campaign hashtag has so far been shared 230,536 times on social media, with the same amount of meals being provided to those in need. This marketing campaign simultaneously highlights Virgin's corporate responsibility and unique brand voice.

Starbucks – White Cup Challenge

It's debatable whether Starbucks has the best coffee in the world, but they sure have one the best brands. In fact, Starbucks is the 2nd biggest brand on Instagram. Their fans are loyal and the content they generate is often shared on the coffee brand's official social accounts. In 2014, Starbucks started a competition with their customers to use the white coffee cups as a canvas and tag their submissions with #WhiteCupContest. The winning design was used on limited edition reusable cups available in stores for $1. This campaign received over 4000 entries, all of which were shared on social media. The contest is a winning combination of crowd-sourced product design, increasing reusable cup sales and reinforcing a Starbucks' environmental responsibility credentials. Starbucks fans submitted their #WhiteCupContest designs via social media.



New job, new underwear!





Fruits of the Loom, an American underwear and sock brand, reached a new audience with a LinkedIn marketing campaign called "

Fresh Gigs

". Professionals who added a new job on LinkedIn received messages of congratulations, and offers of a free pair of men's briefs or women's underwear. They were also asked to share the news with their social networks. When the underwear is delivered, it contains a 5$ off voucher for their next purchase. This campaign offered the triple threat of gets customers to try the product for the first time, spreading the brand message, and encouraging further purchases.





Metro Trains

-

Dumb Ways To Die



Metro trains wanted to spread their train safety message to a large audience in a light-hearted manner. They created a short film, Dumb Ways to Die, which found popularity not just in Melbourne, but globally, with 98 million views so far. The video was linked to a website encouraging people to pledge to "Be Safe Around Trains". With the success of the film, they doubled down on the campaign, creating an accompanying mobile phone app, which has been downloaded over

100,000,000 times.

Making your campaign shareable is essential for any mass-market brand.



These were is some of our favorite campaigns, what are some of yours?

Add your favorite successful marketing campaign in the comments section below.





Max Gross is a Marketing and Technology fanatic. He is currently studying Business (Marketing) at Swinburne University, and an intern at Marketing Eye. You can follow him on twitter: @MaxTechMan