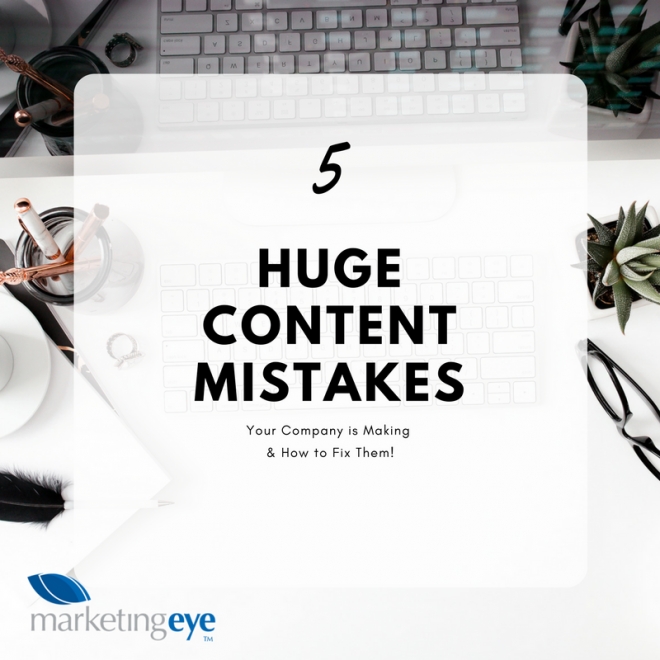 5 Huge Content Creation Mistakes You're Making
You get it, posting content is crucial. But make no mistake, the kind of content you are posting is essential to your business's success. Quit posting content that isn't going to benefit you- stop making these content marketing mistakes!
1. Stop being overly sales oriented:
When posting your content, you don't want to shove your product and services down your reader's throats. You want to be subtle and begin creating a relationship with your audience.
Try this instead:
Create blogs, social media posts and website copy that educates and/or entertains your audience. It becomes much easier to sell your product or service once you have created a positive experience for the people checking out your company.
2. You aren't targeting your audience:
When drafting your content, it is important that you are answering the questions that your buyers are asking. Steer clear of writing about general or random topics.
Try this instead:
Do your research. I know, everyone hates this part, but you want your marketing efforts to be effective, right? Start by studying your analytics and see who is searching for you. Then, tailor your content around who those people are, and what they are looking for so that they can better find you!
3. Don't hire someone just for SEO:
Don't get me wrong, SEO is extremely valuable. However, your content creation and your SEO directly affect one other. If you have two different people working on these tasks, your search results aren't going to be as effective.
Try this instead:
Have either a marketing specialist or a
marketing team
working on all of your marketing efforts synchronically. That way, your SEO is being updated daily or weekly (which is a necessity) and your keywords are matching up with all your content, on every platform.
4. You don't post enough or you post too often:
Working with a variety of clients, I see this problem all the time. They aren't sure how often to post so they either don't do it at all or spam their followers with information. Social media isn't rocket science, but there is some method to the madness.
Try this:
Create a monthly content calendar with daily posts. Color coordinate it so you know which platforms your content should be posted on. Then set up a Buffer account, upload your content, and schedule it so it posts exactly when you want it to. Look up Holidays, hashtags, and industry news and have fun with it. Make sure you always post a picture and use hashtags so that your posts are easier to find.
5. Your blogs are a mess:
You probably skimmed through most of this article. How do I know that? Because that's what we do as humans. We are impatient and want our information quick. Stop posting blogs with huge blocks of text and no headings or subheadings.
Try this instead:
Space things out and embrace white space! It separates your information and makes it easier for your audience to skim through your content while still understanding your key messages. Throw a picture into your blog to space out your text and give your readers some kind of visual understanding of what you are telling them.
If you need help implementing some of these strategies, maybe it's time to get some help. Don't keep making the same mistakes that are costing you lots of money and giving you very little ROI. Reach out to the talented staff at
Marketing Eye
to take over and transform your marketing strategy.