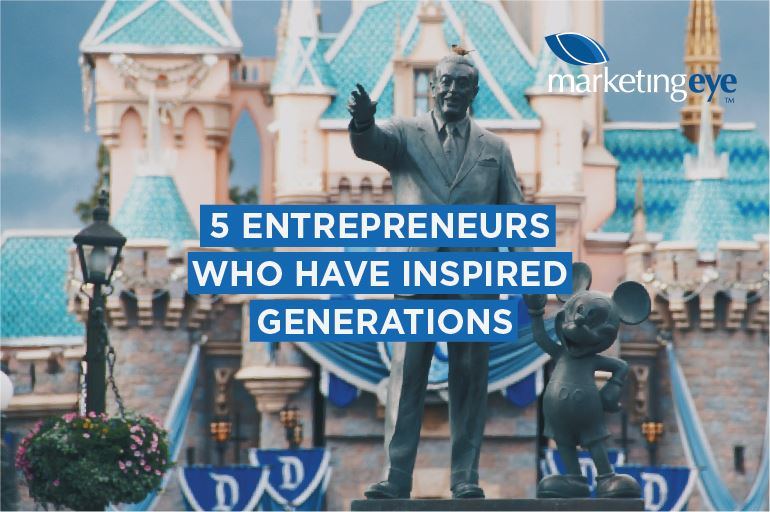 5 entrepreneurs who have inspired generations
The sharks' prey was emitting a nervousness thought impossible before they showed themselves. Beads of sweat popping and streaking. Hands raised to wipe their brow. Vocal chords faltering. Knees buckling under pressure. That's when the sharks go in for the kill.
That's the basic principle of a number of business-based television shows, Dragon's Den, Shark Tank and Next Den Gen. The Sharks comprise of four entrepreneurs, with a combined wealth of somewhere in the billions of dollars who must judge the business presentations of 'wanna-be' entrepreneurs.
The entrepreneur's plight
It's not easy at the best of times to pitch a business idea. It's even more difficult to ask for a sum of money to help support the business or product. But that is exactly what these would-be entrepreneurs have to do.
So it's any wonder that they are nervous. Add to their distress the heat of the studio lights and the sense that perhaps a million people are watching and you have the making of an intense show where a bunch of bright-eyed guppies (if we are permitted to stay with the fish reference) are thrown back to the choppy sea or offered half of what they think they are worth.
When I first saw the show advertised, I had no interest in watching it. It looked like another exploitative reality show. After I caught the tail end of a repeat of the first episode I was hooked.
Like any entrepreneurial endeavour there are good ideas and bad. So far there is the 14-year-old kid who looks like he will change the way computing is done. There was a spectacular looking rib sauce made by someone who is clearly a good cook, but a terrible business operator. Both failed to pick up any dollars, such is the fickle and often harsh world of investing in an idea.
Being an entrepreneur is difficult. You are on your own: the sole driving force of an ideal, a business plan and for some a dream. It's a hard lonely road, but someone has to take it otherwise the world would be in a perpetual state of sameness.
The leap of faith
As shows like Shark Tank, the original pitch show Dragon's Den and it's online offshoot
Next Gen Den
attest, sometimes you just have to take a leap of faith because you never know what support is around the corner.
The flipside is the shocking reality that your idea isn't good enough and you have to start again.
In all my years interviewing entrepreneurs (some of them who are on the Shark Tank panel and were starting their journeys), one thing among many that I have picked is that the best entrepreneurs take the hits and move on. Forget about starting in the garage, or mortgaging your house. Yes it's noble to start from nothing and makes for a great story, but the entrepreneurs who have picked themselves up from the canvas after taking some of the biggest knocks in their life are those who have attracted the most success.
They are the ones who inspire me the most. And of course
Fred Astaire
. Astaire wasn't an entrepreneur, but was one of the greatest dancers of all time and was told he couldn't sing, dance or act. He showed them.
Pick yourself up, dust yourself off…
So did the following five entrepreneurs.
1.
Anna Wintour. We'll start with a publisher. Wintour was
fired from her position as a junior fashion editor at Harper's Bazaar for being too edgy.
2.
Bill Gates. Gates had his own Shark Tank moment when his first business
Traf-O-Data designed "to read the raw data from roadway traffic counters and create reports for traffic engineers" failed to attract any investors.
3.
Walt Disney. Disney was fired by a news editor who told him he lacked imagination.
I am now laughing.
4.
Thomas Edison. Edison was taken out of school because teachers said he was stupid. Not an enlightened bunch there.
5.
Milton Hershey. I may prefer Cadbury, but here's to Hershey's tenacity. The man oversaw three failed candy manufacturing businesses before Hershey's made him a mint.
So I will now watch Shark Tank and perhaps even Next Gen Den for some inspiration of my own, because kudos should be given to 99% of those who have the encourage to out their idea in front of a school of ravenous would-be investors. There's courage there. And in amongst those who are courageous enough to expose themselves will be one or two who, I have no doubt, we will be admiring and purchasing from in the near future.