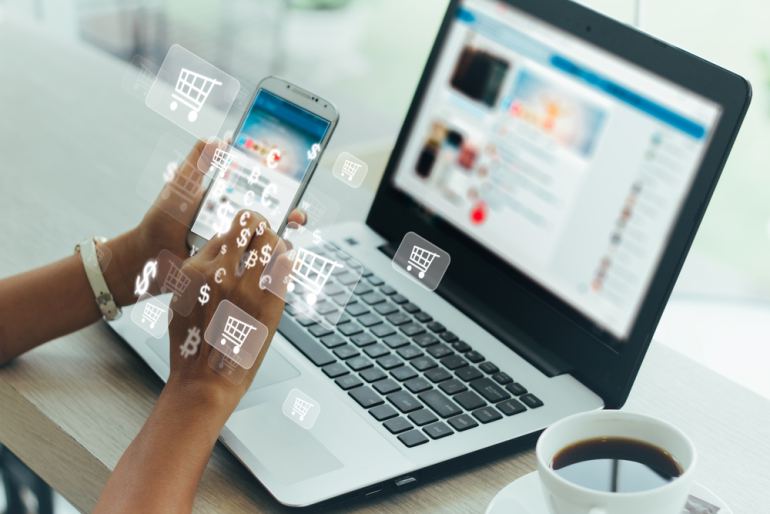 5 E-commerce Trends That Can Help You Grow
Many reasons contribute to the rapid growth in the E-Commerce space, with Covid-19 being the main one. According to Forbes, in 2021, e-commerce sales account for $870 billion in the US, a 14.2% increase over 2020 and a 50.5% increase over 2019, representing 13.2% of all retail sales in 2021. The changes in consumer behavior in the past few years are driven by the stay-at-home policy as well as the fears of the spreading pandemic, bringing customers from brick-and-mortar stores to online stores. The convenience of being able to shop anywhere and anytime, and get it delivered to your doorstep without having to go to the store has influenced customers' purchasing behaviors. However, the e-commerce industry is always changing and businesses continuously aim to improve their customer experience to enhance their shopping journey.
Did you know that there are trends that businesses use to help them grow now that have made the e-commerce business competition is fiercer than ever?
Here are 5 trends in the e-commerce industry that can help your business grow.
1. Chatbots enhance the shopping experience
If you haven't implemented a chatbot on your website, now it's time to consider it because chatbots to online stores are much like a sales associate to retail stores. Chatbots are there to interact with online shoppers like in-store sales associates. Online customers tend to get frustrated if they are not able to find the item that they wanted and purchase in just a few clicks, and this is where chatbots come to help.
Chatbots that interact with customers, answer their questions, help them retrieve order information and modify their order to allow customers to feel supported and satisfied as they whilst having a smooth customer experience. Online shoppers who are satisfied with the shopping experience are likely to be loyal customers which are invaluable to any business.

2. More ways to pay
When it comes to payment methods, each customer has their individual needs and preferences. If consumers can't pay how they want on an e-commerce website, they might cancel a potential sale that your business could have had. For this reason, offering a wide variety of payment methods is a good way to increase conversion rates.
It is also a trend for retail businesses to partner up with payment companies such as Klarna which provides a flexible payment option that gives shoppers a chance to try the products before they purchase. The popular 'buy now, pay later model decreases cart abandonment and increases order value, helping businesses increase their revenue. In addition, if customers can save their payment information on your business site, they'll be able to checkout even faster the next time they make a purchase, and this convenience influences future purchases and increase retention.

3. Voice search feature
A statistic shows that around 28% of US households owned at least one smart speaker in 2018, and it is projected to reach 75% by 2025. As more consumers adopt home speakers, more voice searches will be utilized to shop online, order food, and organize their lives. With this new voice technology, branding won't be entirely visual anymore as they will be both seen and heard. The rise of voice search creates an opportunity for e-commerce businesses in terms of keywords and content.
If you use voice search feature in your e-commerce business, you should start with enabling your customers to search for items within your online store. Besides having a manual keyboard input search, customers should also be able to search for products by solely using their voices works the same way as Apple's Siri or Amazon's Alexa.
4. Subscriptions
The trend of e-commerce subscriptions is growing, and it can also help your business grow. According to McKinsey & Company's research, 15% of online shoppers have signed up for one or more subscription services. From meal plan boxes to healthcare subscription boxes, there are all sorts of subscription services these days and their convenience is attractive to consumers. Subscriptions not online attract new customers but are also effective in keeping customers if they do not opt-out of their subscription.
A subscription model may be beneficial for your business to predict sales outcomes by looking at the active subscribers, and you can also assess the business performance rather than relying on projections and estimates. The subscription model offers predictable monthly recurring revenue, giving you the confidence in knowing how much to invest in the growth of your business.

5. Augmented Reality
Augmented Reality (AR) is the new trend that e-commerce businesses have started to adopt. AR technology allows online shoppers to virtually see the item they're shopping for, which helps them make better buying decisions. In some industries such as fashion and home décor, AR changes the shopping experience for customers.
For instance, online fashion retailer Farfetch uses AR to let shoppers have a virtual try-on experience, and IKEA Place app allows shoppers to virtually place true-to-scale 3D models of furniture in shopper's own space, help shoppers make purchasing decisions since customers can get a better feel for products without having to see it in person.
Technology is constantly evolving, and e-commerce will continue to grow, so your business needs to keep up with the latest trends. Businesses continuously are improving their digital strategy and customer experience to make it more convenient for customers to shop online and have the smoothest shopping journey possible to keep them coming back. These 5 trends we shared are things you should consider implementing into your e-commerce site to stay relevant and stay ahead of the tight competition in today's e-commerce industry. It may sound overwhelming to start implementing so many new technologies, but the tip is to just start with something and continue to keep your business updated, and you will start to see the improvement in your business performance.