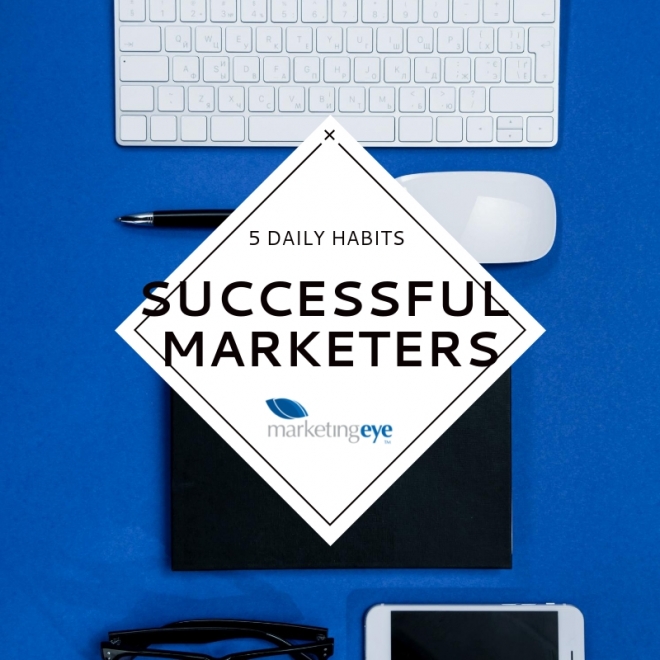 5 Daily Habits of Successful Marketers
As marketing professionals, no day ever goes as planned. That doesn't mean we don't all have some daily routine we try to follow.
Being a successful marketing professional is tough work. Here are 5 daily practices of highly successful marketing professionals:
They have a plan:
As mentioned before, in this industry, your day never goes the way you thought it would. However, exceptional marketers always get their main priorities tackled during the day, no matter what comes up.
So, whether you keep everything written down in a notebook, in a planner, or in your Outlook calendar, staying organized and on top of your tasks is an essential part of being a great marketer.
They ask why:
Merely knowing how to create a marketing campaign is not enough to be a fantastic marketer. Great marketers seek purpose in the work they produce. They ask questions like:
Why does my business need a blog?

Why should my client utilize LinkedIn and Twitter but not Instagram?

Why am I creating this lead list?
To be a leading marketer, you not only need to ask these questions but make sure you find the answers.
They seek out the competition:
It seems that each day there is new software, social media platform or automation tools that help us reach our audiences more efficiently. By keeping up with the competition, you can quickly adopt new techniques and stay ahead of the game.
Here are a few ways you can monitor your competition:
Read their blogs: This will help you find inspiration for your content creation while teaching you some pretty cool tips and tricks along the way.

Social listening: Pay attention to what consumers are saying about your brand and your competitors.
They consistently create valuable content:
Your prospects are out there, and they are asking the internet questions. Great marketers increase sales by providing answers to their target audience's problems through blogs, website copy, newsletters, whitepapers, case studies and many other forms of content creation. The truth is if you are not regularly creating content, you are falling behind.
To make sure your content is consistently being pushed out, here is some advice to help you work smarter not harder.
Repurpose your content

Create an editorial calendar
They test their campaigns:
The difference between a mediocre marketer and a great marketer is that great marketers track the success of their campaigns. That way, if something isn't working, they don't continue wasting time on it!
Here are a few factors to measure:
Website traffic- Most content management systems (CMS) have plugins so that you can track your website traffic. If yours doesn't though, there is always

Google Analytics.

Lead quality- Do the leads you generate match your ideal customer profile? Does the cost of your product or service align with their budget? These are a few factors to use when measuring your lead lists.

SEO success- There are several ways to measure your SEO performance. One way is to use the

Alexa Ranking

to see how your SEO ranks both nationally and globally. You may also track the quality of your website traffic by measuring how long visitors stay on your site and how often they are engaging with your content.

Engagement- Are your prospects opening your email campaigns? Are people commenting on your blogs? Do your social media followers like your posts? These are just a few ways to track your engagement.

While all of these qualities and skills make up one incredible marketer, passion trumps everything. Passionate marketers do everything mentioned above and much more simply because they love their careers. At Marketing Eye, we have a team of immensely talented, driven and passionate Marketing Executives. Bookmark
our blog
so you can keep up with marketing trends from the experts themselves.