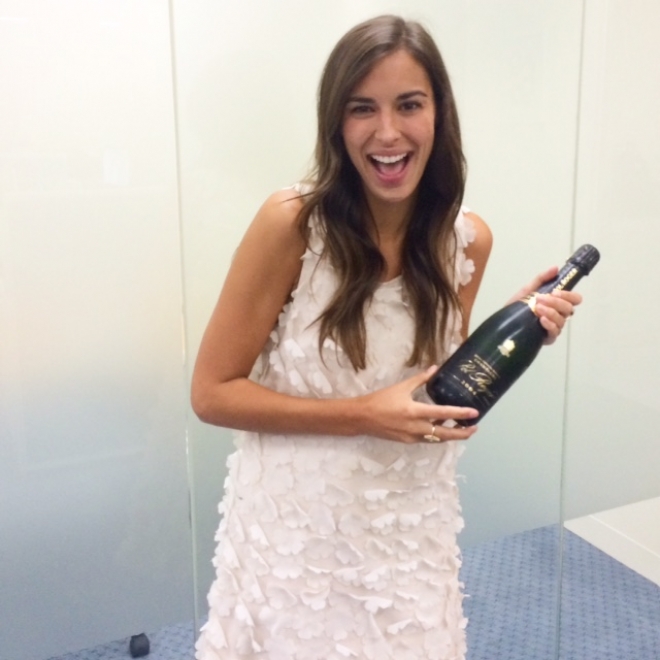 $128,000 worth of consulting hour sales in her first month - learn how she did it
Atlanta
Inside Sales Executive
Tayler Bridger
is a complete rockstar.
Month one of her newly appointed inside sales position in the Marketing Eye
Melbourne, Australia
office, she has achieved a huge milestone;
$128,000 worth of sales.
I am thrilled. For years I have been letting sales fall to the wayside because we were not able to get back to all of the leads that came through our website. There simply were not enough hours in the day. But that changed.
The decision seven months ago to hire an
inside sales executive
was the best decision I have made in business. It is singularly the biggest game changer, that is powering our business to the next level. Sales keeps clocking up. We know marketing, but until recently, I wouldn't say we understood sales as well as we should have. While other marketers in the company sign client contracts, the
inside sales representative
is responsible for the sales derived from our company website. Tayler, as an inside sales executive, had been working on sales for only two weeks after the initial two week training period.
During that time, she had some interesting experiences.
One particular instance was when she was so excited by a triple retainer opportunity with a prospect, setting up a meeting with me and herself, only to find that I didn't think the company was a good fit. As we sat in the meeting, I told the prospect that they wouldn't fit our culture.
They were gobsmacked.
They couldn't believe it. But from experience I know that its better to have a good client that fits well with your model, then one that doesn't fit at all. It's a valuable lesson that Tayler learned from being part of every stage of the sales process, and particularly great because she learned that she not only has to look at the prospect from a financial perspective, but also, from the perspective of the marketing manager who would be looking after them.
Tayler is a remarkable individual.
Like her two American counterparts that have filled the same shoes as her before, she is a real talent.
#24yrold
Maikayla Desjardins
was my first protege and she excelled in every area of marketing and inside sales. Eventually, she moved on to live in San Diego, but will forever be part of our family.
Madison Jostol (aka #22yrold)
is now heading up our Seattle office. She too is a talented, smart, ambitious and ready to take on the world. What 22 year old do you know is happy to move house and set up shop in Seattle for a company that she worked for for a little less than 6 months? There is no challenge that Madison is not prepared to take and her enthusiasm for the company is certainly very contagious.
Tayler is similar.
She is ambitious, and has her foot on the throttle. It's interesting to see how her mind works. She never tires of sales calls and continually learns on the job every day. I can't wait to see where she is in 12 months time.
We all love having her here. She is a breath of fresh air and a passionate brand ambassador. We particularly have a synergy with Tayler given that her home town is Atlanta, Georgia, which is where I decided to open our first US office. It's almost like things are going the full circle.
I decided to ask her what the secret sauce is to how she achieved this result. Here are
7 things that stuck out for her in the journey of reaching $128,000 worth of sales:
#1 Raw Ambition
"Sales is an area that I have never worked in before and I wanted to prove to myself that I could be really successful."
#2 Listening and being open to modifying my technique
"I was open to constructive criticism of my sales spiel and sales technique. I was willing to absorb the advice from our Founder, Christina (Vic State Manager) and the previous Inside Sales Executive who now is in Seattle (Madison), and apply relevant changes."
#3 Fear of failure and disappointing co-workers
"I didn't want to disappoint the founder as well as other co-workers, and I didn't want to feel like a failure to myself in a new career. I am in Australia, and it's kind of sink or swim. I am choosing to swim. I have goals within the company as well as goals for myself. When I came here I told myself that I never wanted to be as successful at something as I want to be in my job and life in Australia."
#4 Finding my rythym
"I was able to create my own rhythm. I was taught the basics and then I turned the role into my own. I learned a lot in the first two weeks particularly on how to read people over the phone. The more people I talk to, I am able to tell if they are going to be a future client or not, and what stage they are in their business."
#5 Passion for marketing
"My degree is in mass communications and I took this role as it didn't take away from my degree - in fact it complemented it. Because I have worked in a marketing department previously, I was able to take that knowledge and experience into this role. I feel like I am more challenged now because I am in a different country and this role is like a game. It's literally is about how many goals can I score and in what time frame."
#6 Like the people you work with
"Liking the people you work with is half the battle with any job. We enjoy each others company, spend time together outside of work and share our personal lives. We take a break every day together and often sit in the park and eat lunch. Because of this I feel comfortable going to them for advice and knowledge. It's a great relationship."
#7 Mentoring and support
"My founder offers her help, and I know she is there, but she doesn't micro manage or force herself into my daily schedule. This requires a lot of trust and allows to do the job in my own way."
As you can tell, Tayler is immensely passionate and has not only found her feet, but is applying a competitive spirit and desire to be successful into her role. Obviously as a business owner, we all want our employees to be just like Tayler. By spending time and interviewing her for this blog, I have been able to get to know what makes her tick, so I can tailor the way I manage her going forward. This blog has been a light bulb moment for me in that regards. I am also like a proud surrogate Mother. These young, ambitious, highly talented young women are a credit to their parents. They are like no other Millenials that I have met. I am very fortunate to have them part of our team and now it is up to me to ensure that Marketing Eye provides a fulfilling career path for them that keeps them interested.