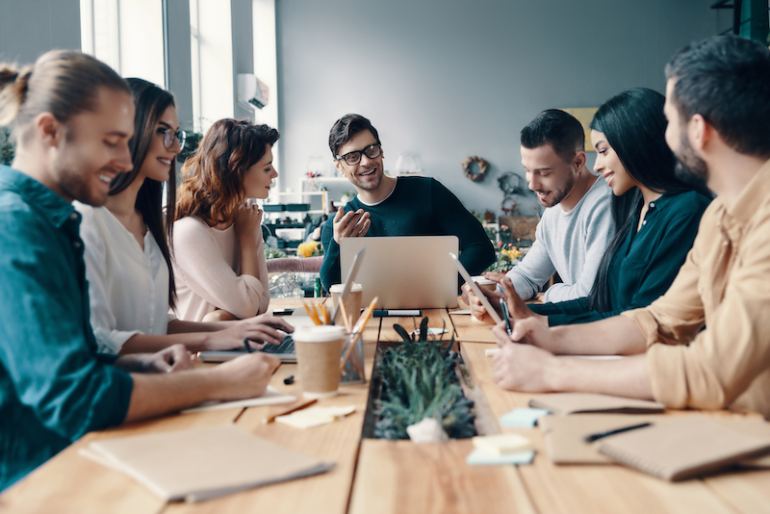 10 Tips to Plan Your Marketing For 2022
Written by Emily Thompson
As 2021 comes to an end and 2022 is just around the corner, brainstorming ways to make your business's marketing strategy a standout in the new year is crucial. If you have ever spent any time in the world of marketing, you know that the trends and strategies are constantly changing and evolving, as keeping up with today's technologies continues to be the biggest challenge. So, as we prepare for the new year, here are 10 ways your company can implement the best marketing trends into your strategy for 2022.


1. Brand Image
We now live in a world where image is one of the most crucial components in marketing. If you want to establish a strong brand image, choosing the right communication method and words are pivotal elements to building a positive brand image.
While digital advertising will continue to be a part of your marketing strategy, finding more affordable and creative ways to organically raise your brand awareness will be essential in standing out in such a competitive market.
2. Simplicity Over Content
Will the quote "Content is King" finally be a phrase of the past? Well as the amount of online content continues to drastically increase, being a standout is becoming more and more difficult. Instead of being absorbed by a large quantity of content, audiences are now more interested in simple, high-quality, and unique content.
Although it is hard to invent new ways to produce productivity and engagement, there are unique changes that you could utilize to emerge from all the online content.
Some of these include longer, educational blog posts and articles, a tool that will help increase your SEO, and more recently Interactive Content. By simply adding quizzes, games, and questions content, your business becomes more relevant, connective, and engaging.

3. Personalization
Understanding who your audience is and how they consume their media during this day and age is so important in being able to reach the right people on the right platform. If your audience members most commonly listen to a lot of podcasts and engage with posts on Instagram, you need to be there. By doing this you are coming across to them in the most appealing way, not only engaging them but also expanding your respective audience.

4. Marketing Automation
As technology continues to progress and change how we market our businesses, efficiency also becomes a major standout feature. Marketing Automation, although not necessarily a new concept, is all about utilizing software to automate marketing activities such as email marketing, social media posting, and even ad campaigns. Seeing as the "one fits all" scheme stopped working years ago, Marketing Automation has become a way for companies to individualize their messages, providing a more personalized experience for consumers.

5. Conversational Marketing
The progression of technology has similarly caused audiences to need instantaneity. If consumers question anything, they turn to Google and now Amazon's Alexa for the most immediate answers.
However, one downside of this is accuracy and the lack of human-to-human conversations. Customers do not want to talk to someone on the phone who is reading off a script or chat to a robotic "chat to me" box on a website. Instead, they want to connect quickly with real people who are able to give them solutions to their problems. This means establishing additional less formal communication platforms. Instagram, Facebook, LinkedIn, Pinterest, YouTube, and other social media platforms create this instantaneous access to your company through their instant messenger software. By being active on one or multiple of these platforms, you are giving yourself direct access to your consumers.
6. New Social Media Trends
As one of the newest components of the marketing world, social media continues to evolve the way consumers connect with businesses globally. With the rise of TikTok and Instagram Reels, as well as the introduction of shopping/e-commerce on Instagram and Facebook, the way in which consumers are using these platforms is constantly changing.
As new social media software becomes available, investing in social media teams would be beneficial in keeping up with new terms and engaging with most consumers. They could analyze data to determine the type and time of day to post your content, to benefit the most from your audience.

7. Video Marketing
In most recent months, studies have shown that audiovisual or video content is more successful in engaging audiences. With the rise of TikTok, Instagram Reels, and Livestream on both Facebook and Instagram, video content has become more popular than ever. Research shows that audiovisual content is 40 times more likely to be shared than non-audiovisual posts, and videos are the most clicked type of advertising, receiving better engagement than text and image-only ads.

8. Social Commerce
Although Social Commerce isn't a new form of shopping online, it is finally becoming a mainstream component across a variety of platforms.
Some platforms that are investing in this social commerce change are:
- Instagram Shopping: making it easily accessible for brands to advertise and sell their products directly through Instagram.
- TikTok Creator Marketplace: brands have access to a plethora of creators that align with their products and interests who are able to advertise their product to all of their followers, extending the business's audience base.
As influencer marketing also continues to take off, your brands should think about creating ads that fit seamlessly into social media feeds and integrating social media and social commerce together effectively.
9. New Twist on Traditional Marketing: Direct Mail
Some people may think that the days of traditional marketing are well and truly over. However, research has found that people's perceptions of traditional marketing may be wrong. Direct Mail is the physical mailing of marketing material to a potential customer's home. Yet Direct mail plays an increasingly important part in omnichannel marketing strategies in 2021, with research showing 70% of people engage with a brand online after receiving direct mail from them.
With online advertising becoming the new norm, many consumers are no longer valuing or paying attention to online content. Instead, studies are showing that 70% of consumers value direct mail for its authenticity and personal nature that makes them feel valued.

10. Think Outside the Box
The important thing to remember is marketing strategies that you may have been using for the last 5 years, may not continue to be efficient as technologies, values and consumers continue to evolve.
Consumer habits have drastically changed over the last 2 years alone due to the COVID-19 pandemic, therefore researching your new concepts to see what results they are indicating for other companies.
Thinking outside the box has never been so important. You could even be on the cusp of establishing a new trend.
2022 will undoubtedly bring some fundamental changes into the world of marketing. While the trends in marketing are constantly changing, the basics of success generally remain the same; understand the needs of your audience and communicate them clearly and often. So now is the time to start planning your marketing strategy for 2022 if you haven't already. Make sure your business is starting the new year with the best and clearest plan of your goals and how you hope to achieve them.

Image source: Shutterstock-1377054161