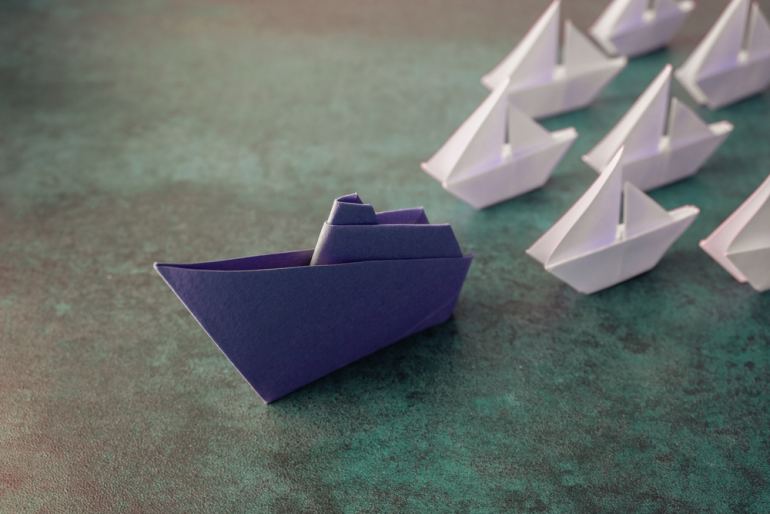 The Top 7 Traits of Successful Marketing Leaders
Many believe that great leaders are born or rise to the occasion, but with such a need for leadership ever-present in business, government, and the NFP sector the question hangs, can great leaders be created?
Becoming a successful marketing manager does not always mean you have more experience than everyone else (although that always helps) but success comes more from specific qualities and traits that you have developed through both your personal and professional life. While the answer to whether marketers are made or born isn't as cut and dry as a simple yes or no what's been found is that successful leaders in marketing have the following 7 traits.
Leading by Example
If you want your team to perform and work to the best of their ability then you have to be the one to set the right example. You need to become a role model not just for your employees or your peers but your brand and community as well. One of the ways this is achieved is through self-discipline which is not an easy skill to acquire and requires years of good habit building. Self-discipline ranges from waking up at the same time every day and ensuring you get to work on time to complete all tasks before their due date. However, the most important aspect of self-disciplined managers is that they are reliable and will always do as they say without question. This promotes a sense of stability in management for team members.
Great team-player
There is no doubt that a leader has to work well in a team, after all, you're leading one. A leader should understand their people and know how they work and communicate with each other in order to ensure that they perform to the best of their ability. The main responsibility of a leader is to create the best group dynamic possible in order to promote harmony and effective teamwork amongst members. This is done by listening to the concerns of your staff, embodying the values of your brand, being genuinely considerate of your co-workers, and taking accountability. If done effectively, this will build reciprocal trust among your workplace and can have a highly positive effect on corporate culture. Leaders can reward a great group dynamic by creating a good company culture and have an effective way of resolving conflict between team members. This is easier said than done and requires soft skills and the ability to empathize with their team members, but with the right touch, it can significantly improve productivity in your business.
Assertiveness and decisiveness
Marketing leaders have to make many decisions during their work every day and there is often no time for dilly-dallying and overall indecisiveness. This does not mean that you have to ensure every decision you make is the correct one and will reap positive benefits because everyone is fallible. Being assertive and decisive means that as a leader you are not afraid to make a mistake and will implement whatever strategy is needed in a timely manner without going back and forth between choices. Marketing is an exciting field and many decisions are time-sensitive therefore as a leader you need to ensure you always make well-informed and timely decisions and take accountability for them.
Focus on long term results
As we've discussed in other articles, there are many marketers who make the mistake of calculating their return-on-investment way too early. Sales cycles take time and you can expect to see accurate results from a marketing campaign within a month or even a few months depending on your company's sales cycle and campaign length. Successful marketing managers are able to look at the bigger picture and stay focussed on key objectives when figures aren't looking great immediately. Rather, they are patient and able to focus on long-term results which in the end, is much more effective than only waiting a month after a marketing strategy has been implemented.
Flexibility and adaptability
No one needs convincing that today the world is a much less stable place than ever. With the COVID-19 pandemic raging across the world it's sometimes hard to remember what life was like out of lockdown or restrictions. The true test of contemporary leaders in all industries is on their ability to be flexible and adaptable to changing situations. This is an attractive trait to embody not just because the marketing world is constantly changing but our world and the way we live is as well.
Love for learning
Great leaders are always learning and understand that no knowledge is beneath them. Successful marketing managers are constantly developing their knowledge gained from their superiors, their team members, or their insight into their industry. Marketing leaders who embody this trait are also constantly adopting new and useful traits and that's what makes them successful.
Excellent communicators
Last but not least, an effective leader has to have excellent communication skills, especially in marketing. Leaders instruct others, motivate others, teach others, and help others succeed. How can one do that without impeccable communication skills? Leaders not only have the confidence to speak out and speak up when required but what they say and how they say it will always be clear, direct with minimal possibility for miscommunication.
Despite popular belief, leadership is not an innate talent that some are born with but rather qualities and skills that have been developed over time. If a marketer possesses the traits required such as the ones we have listed above, they have the potential to become a powerful leader.