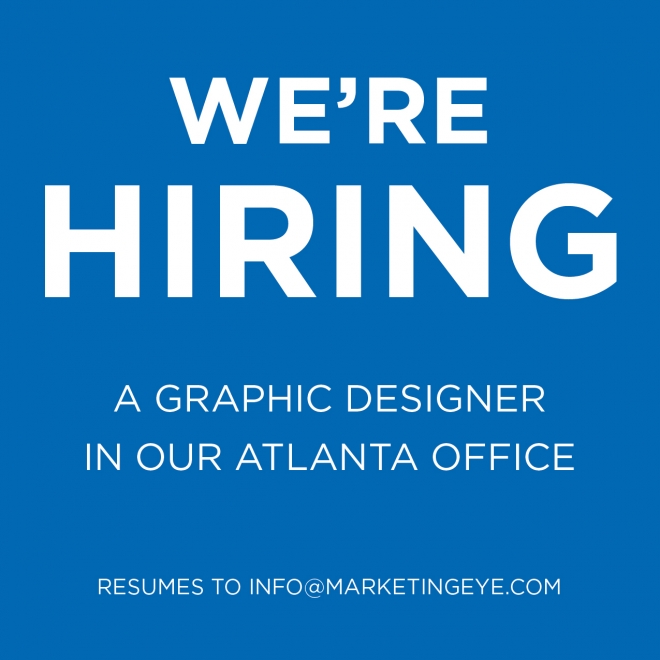 Now Hiring: Graphic Designer at Marketing Eye Atlanta
Happy 2016!
As Marketing Eye Atlanta kicks off the New Year, We realize that it is time to expand on our wonderful journey towards greatness! No, but really... Marketing Eye Atlanta is looking for a Graphic Designer to work alongside the amazingly talented Art Director, Brandon Reviere!
Throughout this past year Marketing Eye Atlanta has had some of the most amazing experiences, namely through our fantastic co-workers and inspiring clients. They never cease to amaze us with their insights, perseverance and determination to kick goals straight in the ass.
Marketing Eye Atlanta's relationships have grown immensely in confidence and magnitude and internally and externally. We have been able to employ more people, because more leads are coming through our website than we know what to do with, but hey we aren't complaining! It's a great problem to have. The inside sales model that we have is working seamlessly and our marketing is completely automated.
Through our past and current clients we learn a tremendous amount, which in return allows us, as marketers to add more and more value when onboarding new clients. These experiences are what companies like Marketing Eye cannot buy. Knowledge and experience is without doubt, what puts us ahead of the game constantly. These lessons are ones that help us improve our service and business, which is instrumental when writing proper marketing strategies for our clients.
For some industries, 2015 was a tough year, and for others it was a time for expansion. Through both examples though, we learn, and we grow into a stronger and better us.
As we start the new working year, reflect on the past year, but more importantly, think about how you will make a difference in 2016. "What will your story be?" as The World Incubator slogan asks. How will you make a difference and get the most out of the year ahead?
To apply for Marketing Eye Atlanta's Graphic Designer position please send your resume and online portfolio to

This email address is being protected from spambots. You need JavaScript enabled to view it.