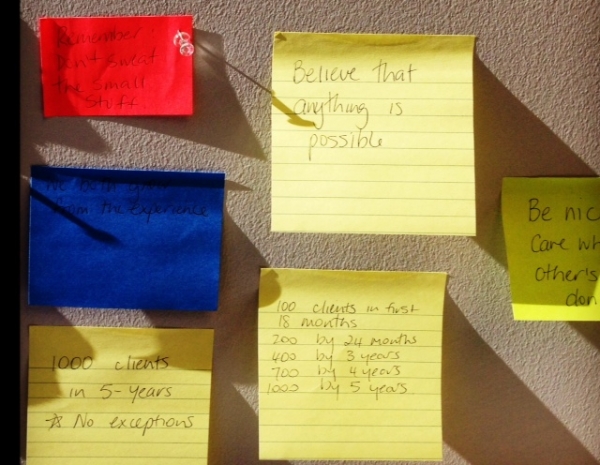 My world is getting a little more clearer
I realized on the weekend that I have been fooling myself. In my mind, I have told myself that everything is fine and as it should be - but the reality is that it isn't. There are things that are not being done or are not going ahead at the rate I would like them to - and that's just my personal life.
In business, its a huge mistake as a small business owner to not be on your game. I put things that pop up, to the way-side - and pretending that they never happened. Constantly, make other things priorities over things that should be at the top of the list and I still don't trust my gut instinct - because if I did, my life would be easy.
We are all in this game to win; whether it is creating a lifestyle business, building an international empire or making huge profits.
Great team spirit is only marred by performance of a company. I often think that I was "lucky" with my business and unlike so many of my friends that have expanded into the US market and failed, I have somehow exceeded expectations and continued to deliver upon my business plan with enthusiasm and belief that no obstacle is unsurmountable. A good friend says to me all the time, "You create your own luck", and perhaps that is true, certainly in some parts.
On the weekend, I did a list. Actually, several. A list for my personal life. A list for my bucket list. A list for my business. Each list was then matched with the particular "business plan" I set in place at the beginning of the year. Mostly, in business, I have achieved all that I set out to achieve - but personally, I am not on my A-game. For some reason, one became more important than the other.
But through writing this list, I am more clearer. I have direction, and have identified obstacles to me achieving my goals. Whether its a personal goal or a business goal, looking at the big picture and seeing it more clearly will help you achieve everything you set out to and more.
Some things to consider:
> Always have a plan. Don't waste your life walking in no particular direction only to find that the destination is so much further than you would have liked
> Write a list and check it off.
> Consider your wider environment and what influencers you have to consider when implementing your strategy
> Don't be afraid to DREAM BIG and back yourself. Often people are their own worse enemy and its only their belief in themselves that holds them back
> Create a team environment - even if it is just for your personal goals, there will be other people who can help you get what you want.
> Never sacrifice your integrity - not even for a second!
> Take pictures or write on post-it notes and put them everywhere. Remind yourself what you are trying to achieve.
Reminders of where you should be are always good. Embrace change, deliver results and capitalize on the assets around you. Life is a journey!