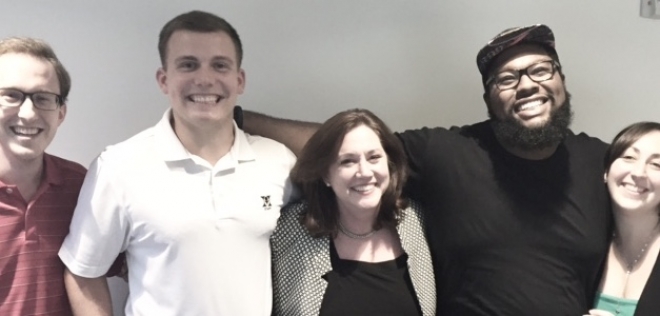 How to hire your next leader
For six months we searched for a VP of Marketing to run our Atlanta operations, and after searching Australia, US and UK/Europe we found Shara Atkinson. She is from Atlanta but for the past 10 years has lived in the UK.

Hiring Shara has been a game-changer. Prior to her appointment, I was overseeing the US market and managed staff from afar. Let me share with you, "it's not the best idea". Running a new company remotely is very hard. It's easy for Marketing Eye to get business, but hard to keep employees and train them from a different continent.

Shara comes with a wealth of experience and insight. She has worked with international companies most of her career and also completed a stint in consultancy for small and medium sized businesses.
The thing that strikes me most about Shara is her ability to work with employees and nurture their development. In this area, she surpasses anything I could ever be able to do. I take my hat off to her. She is inspirational, patient and has so much knowledge to pass on to young marketers looking for a career that is fulfilling.
Atlanta has ambitous goals. From July 1, 2015 to June 30, 2016, the company aims to grow to 120 clients in Atlanta. That takes a concerted effort and a lot of drive, but if anyone can do it, she can.
As an entrepreneur led business, there are certain things that I must do to ensure that this occurs:
Listen: By listening to your leadership team and employees you are able to identify what is needed, when it is needed.
Open communications channel: There is no "silly" conversation, nor wrong question. Ensuring that everyone is always on the same page at the same time is imperative to growth and building a sustainable business.
Let leaders be leaders: No micro-managing. Just support when needed. Letting leaders run their businesses their way is important to giving them full control of their ability to meet KPI's.
Education: Keep training all employees on how to be better at their jobs.
We have built an inside sales model that powers our business development initiatives. We don't necessarily network, but instead rely heavily on inbound leads from our website. Given our position in the top 3 listings on google for almost every search key word in the field of marketing, this has kept us in good stead.
It's an exciting time in the business and one that I am personally enjoying immensely.