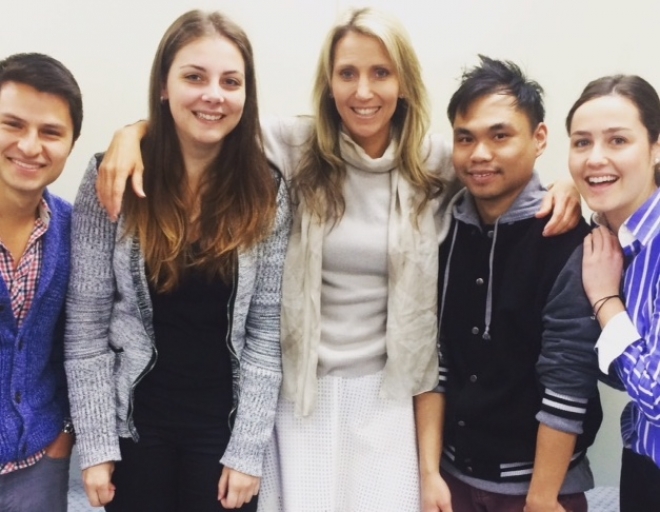 A glass of champagne, a quick chat, and a look to the future
Every Friday is different. Some days we are so busy, we can't scratch ourselves. Other's we are creating great brands, and needing to free ourselves from the shackles of everyday work life and think outside the square.

Our environment is transformative. I say this because each of our offices has their own unique personalities. They seem to encompass the culture that has fostered from an environment free of layered management and flat in structure.


From one office to another, we ask our team to breathe life into their work and the environment that they play in. We train people to not be robots, and challenge the status quo. While many offices require a certain amount of political correctness, we celebrate those who dare to say it as it is - with absolutely no repercussions. It's quite unique and something that I think everyone quietly loves although "below the line" is one of the most common statements used always followed by a knowing laugh that we would not have it any other way.

There has to be someone in each office that owns culture. If you are lucky, there are a few - who are always on the same team and care enough about their counterparts to listen, learn and share when required.

Atlanta has its own little hub. It's more than Marketing Eye in many ways, as we live at the Atlanta Technology Village with a bunch of uber cool tech-heads all dreaming of developing the next big software, application or website. More than anything, as marketers, we admire their determination and spirit. They start late but work until the early hours of the morning and most weekends just to get their piece of software off the group. They never give up and never ever complain.

Contrary to what many believe, they are a fairly healthy bunch. While there is as much Coca Cola as anyone could ever possibly want in the fridge, most people just prefer water out of the tap, mindful of the damage to landfill from water bottles.

Friday is an important day of the week at Marketing Eye. It's a time to say thank you to our team of people who work tirelessly pushing out marketing campaigns that are effective and ahead of the game. They create marketing strategies that are better than anything I have seen elsewhere, and spend hours on social media engaging with prospects in a way that connects and starts a conversation.

We love what we do and are proud of the team that we work with. Marketing Eye continues to evolve, grow and be a game changer in an industry that needs disruption like no other.

#friday #bringiton #marketing #marketingeye