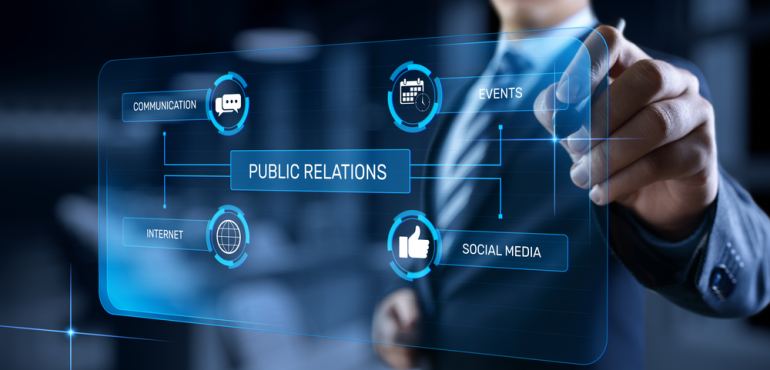 How to Use Social Media to Enhance Your PR Strategy: Best Practices and Case Studies
Social media has revolutionized how people communicate and share information, making it an essential part of any public relations (PR) strategy. With billions of active users worldwide, social media platforms provide businesses an unprecedented opportunity to reach and engage with their target audience. From creating brand awareness to generating leads and building customer loyalty, social media can help your business achieve your PR objectives cost-effectively and efficiently.
Contrary to popular belief, using social media for PR is more complex than creating and sharing a few posts on various platforms. To effectively leverage social media, you must develop a comprehensive strategy aligned with your PR goals and target audience. This requires a deep understanding of the various social media platforms, their features, and the type of content that resonates with their audience.
Here are some of the best practices and case studies for using social media to enhance your PR strategy:
Best Practices for Using Social Media to Enhance Your PR Strategy
Setting clear objectives is critical to the success of any social media strategy. For example, when using social media to enhance your business's public relations strategy, it is essential to define the PR goals and identify the key performance indicators (KPIs) that will be used to measure success.
PR goals are incredibly diverse, and they may involve enhancing brand recognition, creating potential leads, boosting engagement, or enhancing customer satisfaction. To evaluate the effectiveness of a PR strategy on social media, businesses can track several KPIs. Some of the metrics that may be valuable include measuring the number of followers, gauging reach, assessing engagement rates, monitoring click-through rates, calculating conversion rates, and reviewing customer acquisition costs. These KPIs provide a foundation for businesses to track their progress and determine if their social media efforts are helping them reach their PR objectives.
Defining clear objectives and KPIs will help your business stay focused on what you want to achieve and ensures that your social media efforts are aligned with your PR goals. It also helps to measure the effectiveness of your social media strategy and identify areas for improvement. With clear objectives, businesses can save resources on social media activities that contribute to their dreams. By setting clear objectives and KPIs, companies can develop a social media strategy aligned with their PR goals and achieve measurable results.
Choose the Right Platforms
Once the objectives and KPIs are defined, businesses must choose the right social media platforms to achieve their goals. Various social media platforms have unique features, audiences, user demographics, and usage patterns. Therefore, businesses need to identify which platforms their target audience uses most frequently and use these platforms to achieve their goals.
For example, if your company wants to target a younger demographic, you may find Instagram or TikTok more effective PR platforms than Facebook. On the other hand, LinkedIn would be the best platform to use if you want to reach a professional audience.
Moreover, businesses must choose social media platforms that align with the content they intend to publish. For example, LinkedIn may be the ideal platform to establish the company as an industry leader if a business's PR strategy focuses on thought leadership. Alternatively, if a business's PR strategy involves visual storytelling, Instagram or Pinterest may be more suitable platforms.
Considering the resources required to manage social media accounts effectively is also essential. It's better to focus on a few platforms that fit the business well rather than spreading resources thin across multiple platforms. In this regard, smaller companies may prefer to focus on one or two platforms to maximize their resources and ensure a consistent message. Choosing the right social media platform for a business's PR strategy requires a deep understanding of the target audience, PR goals, and content the firm intends to publish.
Social media is all about content, so creating valuable content that is relevant, informative, and engaging is essential for any successful social media strategy. The aim is to produce content that educates, entertains, or inspires your target audience while ensuring that the content is aligned with your brand message and tone of voice. In addition, visual content, such as images and videos, tends to be more engaging than text-based content, so you should consider incorporating multimedia elements into your content strategy for the best results.
To ensure consistency and maintain a strong brand voice, businesses should establish content guidelines and create a content calendar to plan and schedule posts. Valuable content can help companies to establish themselves as thought leaders, increase engagement, and build brand awareness. In addition, tailoring your content to each social media platform's requirements is essential. For instance, Instagram is more visual, and businesses should focus on creating high-quality images and videos that resonate with their audience.
Social media is an excellent platform to build relationships with your audience, stakeholders, and influencers. Engage with your followers, respond to their comments, and address their concerns. Building relationships can help you gain trust, loyalty, and advocacy for your brand.
Social media is also an excellent platform for businesses to build relationships with their audience, stakeholders, and influencers. Engaging with followers, responding to comments, and addressing their concerns can help companies to gain trust, loyalty, and advocacy for their brand. Building relationships can also help businesses identify and engage with key influencers in their industry and leverage their network to reach a broader audience.
Measuring the success of your social media efforts is crucial. Use metrics such as reach, engagement, and conversion to evaluate your social media strategy's effectiveness. Then, based on the results, adjust your plan to achieve better outcomes.
Measuring the success of a social media strategy is crucial to identifying areas for improvement and adjusting the process to achieve better outcomes. Businesses should regularly monitor their KPIs and use analytics tools to evaluate the effectiveness of their social media strategy. Based on the results, companies should adjust their strategy and optimize content to achieve better engagement rates and reach.
Case Studies of Using Social Media to Enhance Your PR Strategy
Airbnb, the online marketplace for vacation rentals, used social media to enhance its PR strategy during the COVID-19 pandemic. The company created a social media campaign that highlighted its hosts' stories and how they adapted to the pandemic. Airbnb also donated funds to support its hosts during the crisis, showing its commitment to the community. The campaign generated over 2.5 billion impressions, showcasing Airbnb's brand values and increasing customer loyalty.
Coca-Cola is known for its innovative social media campaigns, and its "Share a Coke" campaign is a great example. The campaign replaced the brand name on Coca-Cola bottles with famous names, encouraging people to share a Coke with their friends and family. The campaign went viral on social media, generating millions of impressions and increasing brand awareness.
The famous cookie brand Oreo used social media to capitalize on the 2013 Super Bowl blackout. The company tweeted a simple message, "You can still dunk in the dark," accompanied by an image of an Oreo cookie in the dark. The tweet went viral, generating over 15,000 retweets and 20,000 likes. In addition, the campaign showcased Oreo's creativity and humor, increasing brand awareness and customer engagement.
Social media has become a powerful tool for enhancing PR strategies, and it's essential to use it effectively to achieve your objectives. Following the best practices and case studies discussed, you can create a social media strategy that aligns with your PR goals and resonates with your audience. Remember to measure the effectiveness of your system regularly and adjust accordingly to achieve better outcomes. Social media is an ever-evolving landscape, and staying up-to-date with the latest trends and techniques is crucial for success.