Has Instagram become a glorified e-commerce platform?
Written by Emily Thompson
As a platform that was once used for sharing photographs with friends and family, the development of new technology globally has seen Instagram develop various new features throughout thelast few years. As the emergence of content marketing dramatically increased in the early 2010s, how we shared and produced content for social media similarly changed. As a platform whose original purpose was to enable us to share photos with those closest to us, how we use Instagram today is completely different. As an influx of businesses trying to find a new way to personally connect with their customers, Instagram created a feature that enabled users to purchase products without leaving the walls of the app, access we did not have just a few years ago.

With the establishment of the shopping feature in 2017, companies that were once sharing their products online—through content marketing—were instead able to sell their products through the Instagram shop. By posting images of their products and being able to tag up to five products on a single image or video post, customers now have instantaneous access to items, brands and products without having to access the brand's website. As research was developed after the shopping feature was first introduced, Instagram found that 80% of people followed a business account in a global community of over 600M.
This statistic demonstrated that "Instagrammers want to explore and find new things from brands they love and businesses want more opportunities to build relationships with these valuable customers."
Then according to Instagram's internal data in February 2018, a year after the feature was introduced, they found that the establishment of these product tags were a successful addition, as each month 130 million people tapped to reveal product tags throughout shopping posts.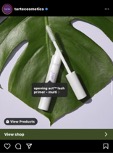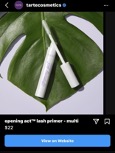 These tags send you straight to their Instagram store, which will either (as the image shows) send you directly to their website or allow you to purchase the item instantly through Instagram.
This seamless experience integrates and redefines what online shopping is and will continue to be. By showcasing products on a wide and diverse platform, the success of the Instagram shop feature has been a positive one as in 2020 55% of fashion shoppers had made a purchase based on an Instagram post.
As online shopping becomes more and more popular, Instagram has transformed its purpose to be an "ideal place for businesses to connect with a vibrant community of shoppers." To connect and better their platform, Instagram stated that although the sharing of personal photos has changed from the original purpose of Instagram, discovery was still a key part of their re-establishment. These posts with tags—as demonstrated above—continue to make discovery simple. If a product catches your eye, there's a place within the Instagram platform to explore this. You can tap to see more details from products featured in posts, and even follow through to the business's website if/when you're ready to buy, connection, information, and access to brands that you may not have previously explored.
Over the last 10 years how we as consumers use the internet, online platforms, and social media has drastically changed. From in-store shopping to the introduction of Instagram's shopping feature, how we are buying and selling goods and services will never be the same. In a technologically advancing environment, social platforms are continuously trying to find new and immersive ways to connect businesses and audiences, changing how we build relationships with companies and brands. This feature development not only changes how we use the Instagram platform, but how we will purchase and shop online in the future.