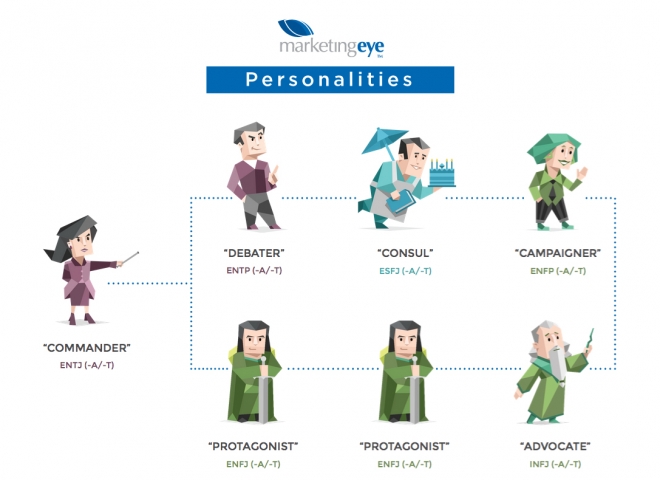 What's Your Dominant Personality Trait?
The other day Marketing Eye as a team decided to take the Myers Briggs personality test. What an eye opening experience this was for all of us. We came across the conclusion is that our team is very diverse. Before taking the test some personality traits were obvious, but others were hidden talents that had not been discovered until completion of this test. Not only was the test great for gaining more insight into our co-workers personalities but it was valuable for personal reflection.
There are benefits to having efficacy within a team, overall it enhances team effectiveness. The divide in personality traits allows for each of us to excel at our strengths while complementing each other's weaknesses. We all bring something different to the table allowing for our clients to have access to a well rounded team with a variety of different perspectives and insights. Combined as a team we offer greater productivity and performance than teams with little diversity.
We wanted to share our results with you, so you can gain more insight into the way the Marketing Eye Atlanta team works:
Mellissah- "Commander" Bold, imaginative and strong- willed leaders, always finding a way- or making one
Brandon- "Advocate" Quiet and mystical, yet very inspiring and tireless idealists
Katie- "Debater" Smart and curious thinkers who cannot resist and intellectual challenge
Annette- "Consul" Extraordinarily caring, social and popular people, always eager to help
Amber- "Protagonist" Charismatic and inspiring leaders, able to mesmerize their listeners
Jaye- "Campaigner" Enthusiastic, creative and sociable free spirits, who can always find a reason to smile
Korri- "Protagonist" Charismatic and inspiring leaders, able to mesmerize their listeners
Overall this was a great experience and moving forward we can appreciate each other's weaknesses and play on our strengths while in the workplace and in our outside lives.
Now that you have seen our results, take your own personality test today!