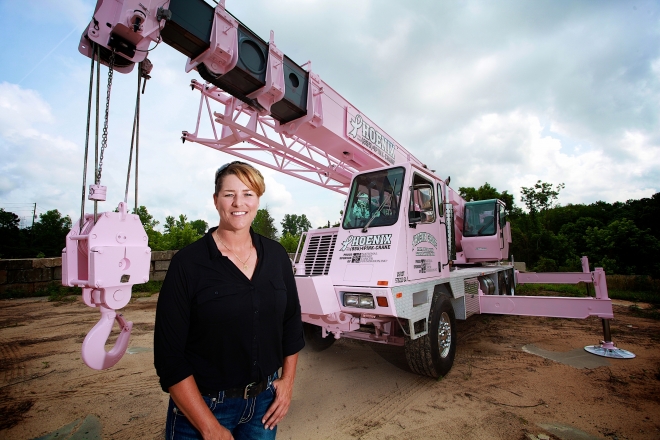 This Pink Crane in Atlanta is Making a Stand Against Breast Cancer
I love to read stories about interesting ways businesses stand out among the competition. But for Phoenix Crane Rentals here in Atlanta, GA, their Pink Crane is more than just a marketing gimmick. For Sally and Dick Phillips, the 40 ton Pink Terex Crane has raised over $130,000 for Breast Cancer Awareness since 2013.


The company started back in 1983 when Dick Phillips had moved from Tampa to Atlanta and saw that there was an opportunity for a crane rental company in a city that was growing fast. With a S-10 pickup, a $25,000 mortgage, and a PO Box, Dick and Sally were off to the races.
Since then they have been renting cranes to the communities around Atlanta, GA for over 30 years. The Pink Crane comes from Phoenix's sponsorship of the Atlanta 2-Day Walk for Breast Cancer. If you see the Pink Crane around town, chances are you've seen Jessica Ives behind the wheel. She's been the operator since the beginning just after Mother's Day in 2012 and says she's happy to continue to do so.
The mission of Phoenix is "to strengthen Georgia's breast cancer community by raising money and awareness for local organizations throughout the state that focus on breast cancer education, screening, early detection, supportive services, and continuing care."
Mike Phillips, President of Phoenix mentions:
"We knew we had the resources to contribute and the willingness to become involved, we just needed the right fit. Looking at the Atlanta 2-Day Walk for Breast Cancer, which is also a local organization, we feel we have found our partner. Every dollar we can contribute yields a far greater personal and organizational return than anything else we could have gotten involved in."
Phoenix Crane Rentals is a company that every Atlantien should get behind. To find out more about their team and to support their cause, visit their website
HERE
.
Breast Cancer | Atlanta | Georgia | Phoenix Crane Rental | Construction