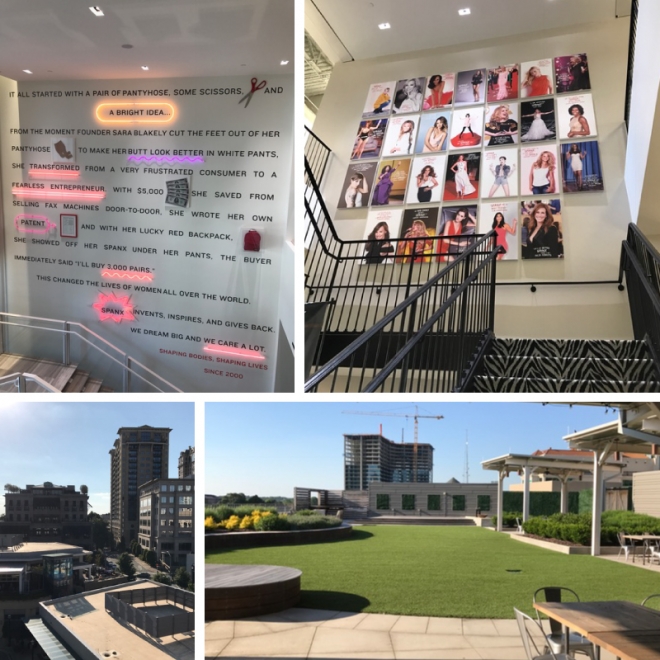 Spanx is the number one coolest office in the world today
I won't lie. I walked into Spanx yesterday and was completely and utterly in awe. Wow! Seriously, Wow! The wide hallways, the high ceilings, the writing on the wall, the pictures, the space, the innovation, the courtyard, the conference room and the kitchen - were a dream.

Sara Blakely is not only the youngest self-made female billionaire in the world today, she is also known widely as the nicest, kindest and most giving. On top of that, she is beautiful, has an unbelievable family and is changing the world, not just our figures when we put on a pair of Spanx to shape the areas we don't want the world to see.


However, it is her office that got me thinking. Imagine working in this space, how can you not be successful, inspired and wanting to take on the world? The people are super nice, the atmosphere is creative and entrepreneurial, and there is so much 'wow' factor going on, my head was spinning.

Wouldn't you like that feeling if someone was walking into your office? I certainly would. Atlanta has been fortunate to have the Spanx headquarters and their new digs are a complete dream. There is no area that has been forgotten and her husband Jesse Itzler, an equally successful entrepreneur, entertainer, rapper, author and motivational speaker brings that added enthusiasm and zest for life that complements the positivity that radiates from his wife Sara.

This whole experience has me thinking, "What makes an office cool?"

The feel

When you walk into an office and immediately it has a positive affect on you and your mind, then that's pretty cool.

Interior design

High ceilings, polished timber flooring, wide hallways, creative spaces, pictures, personal touches, culture-based design elements - all add to the interior design. What had me was just how much space people had to do their 'thang' and the different areas of the floorplan that add to giving you a feeling like you are in a big home, yet you are situated in the heart of Buckhead.

Culture-first approach

Apparently, this place is one that is conducive to having a great time. That means the outdoor area has concerts with cool bands, the kitchen has cook-offs, and the conference room has everything from get-togethers, events, and fashion parades. Everyone's picture is on the wall, so you know who to talk to with an "old-school" feel that is unheard of in a modern environment. Every room as a personal touch of some description from a guitar in one corner to writing on the wall.

Branding

Internal branding says a lot about a company. I realise from walking into Spanx offices and Moose Toys offices a few weeks beforehand, just how big internal branding has become. In spaces like Spanx and Moose Toys, it is bigger than you can ever imagine, even for a branding expert.

I really love what they have done at Spanx and their philosophies. Sure both Spanx and Moose Toys are billion dollar companies and that is helpful to being able to have such amazing spaces for your team, but they have earned it and deserve every square meter!