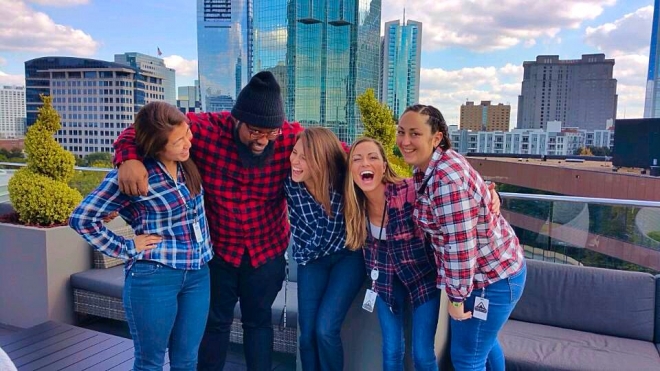 Flannel Friday
Written by Brandon Reviere
Before it gets too hot outside I have to share a tradition we have at Marketing Eye Atlanta- FLANNEL FRIDAY!!
All work and no play makes life barely bearable. In this office we truly live the expression "work hard, play hard." When you have this many creative people in one room self expression is inevitable.
If you have been following along on our blogs, you have read a little something about the diverse range of personality types we have in Atlanta. As a group we have pretty much all personality traits covered. What does that mean to anyone looking through our glass walls at us?.. We are a lot of fun!
Company culture is important. It's especially important to the millennials for they make up the largest segment of America's workforce. Millennials are loosely defined as anyone born between 1982 and 2004. Millennials have grown up in a world that is constantly connected, most of them never leaving the house without a cell phone. These young people are our buyers, and users as well as our employees.
So many companies today know that "company culture is important," but that doesn't mean they know exactly what
that
means. There are lots of opinions on ways to improve culture, the basic importance of a good culture, and the overall benefits that can be reaped from having a great culture. Here are few inspiration tips to keep in mind.
People who don't fit the company culture are better off being paid to leave.





"Sunlight is the best disinfectant."





Great people want direction on where they're going - not directions on how to get there.





Whether you like it or not, you're going to have a culture. Why not make it one you love?




Unfortunately you probably won't have as much fun as we do, but remember to keep your employees happy. Keeping your employees happy doesn't just keep your glassdoor reviews up, it keeps your bottom line up as well.