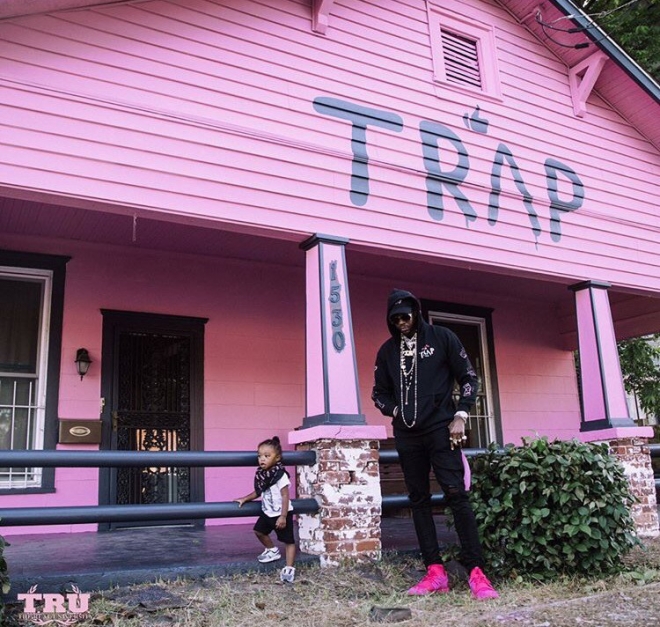 Atlanta's Pink Trap House is Causing a Stir in the Community
Atlanta is known for things like Coca Cola, the Braves, the airport, and Southern cookin'. But did you know Atlanta is also known for Trap music?

Atlanta based rapper, 2 Chainz, has said in a recent Instagram post the he "Gave my city an unforgettable experience that the whole world took notice to… that will be carved down in history!!"

So can Atlanta add a new landmark to its books?


That's what it's looking like for Howell Mill rd down near Atlantic Station. It was truly an incredible marketing strategy for the rapper's new album coming out called "pretty girls like trap music". This will be the rappers fourth album covered by Def Jams and was released in June 2017. On January 2, 2017, at an Atlanta Hawks press conference, 2 Chainz revealed this catchy album to the World. And back in May of this year, 2 Chainz appeared on the View, stating that his fans could expect more "growth and maturation" to his music.
On June 18, 2017, 2 Chainz opened up a pop-up "Trap Salon", which was open to the public where fans got their nails done for free in support of the album. Each nail set design was named after a track from 2 Chainz's album, including "Good Drank", "Big Amount", "Blue Cheese", "4 AM" and "Burglar Bars".
These are jst a few examples of the rapper and his team have been promoting his new album, that most people in the industry say is his best album yet. Including Calum Slingerland of Exclaim! saying,

"If Pretty Girls Like Trap Music doesn't make the rapper an immediate king of the South, it undoubtedly puts him in line for the title."
So now when people think of Atlanta, they may think of Churches Chicken and Waffle House. But they will also have to think of the Trap House, because it's become a movement. It's more than just a marketing ploy for the new album. It's been set up to be a temporary AIDs testing clinic for the neighborhood. It's helped a number of different non-profits. And even churches and yoga studios have popped up around the area under the hashtag #TrapYoga or #TrapChurch.
Real Trap houses are awful situations people may find themselves in around Atlanta. And that's why some of the critics are voicing their opinions. But no matter what your opinion is on the morality of this pink home, it's easy to see it's been garnishing a ton of attention.



Atlanta | 2 Chainz | Trap House | Guerilla Marketing | Social Media Marketing