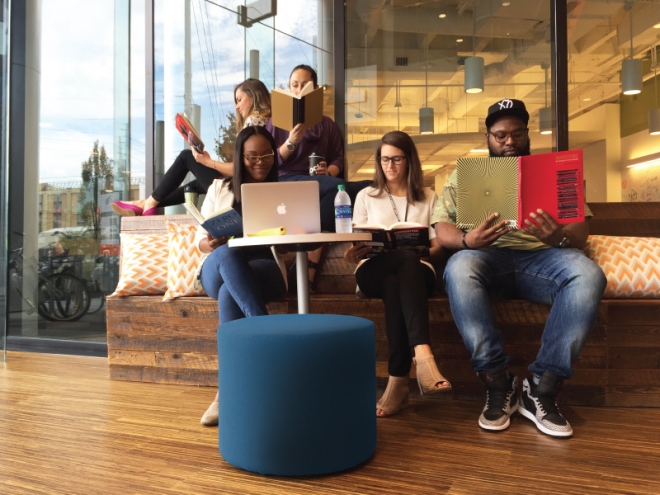 A Team That Reads Together, Learns Together : Culture
As I sit at my desk in the Marketing Eye Atlanta office, I am surrounded by books; A Novel of Zelda Fitzgerald, Steve Jobs by Walter Isaacson, Fun is Good by Mike Veeck, The Girl in Times Square by Paullina Simons, Zero to One by Peter Thiel, The Art of Startup Fundraising by Alejandro Cremades, Start-up Nation by Dan Senor and Saul Singer, Scaling Lean by Ash Maurya, #askgaryvee by Gary Vaynerchuk and Tom Osborne on Leadership.

Clearly I like to read, but so do my staff. The problem is that we all like different books and in our business, reading is knowledge and knowledge is power. The more we know about entrepreneurship and marketing, the more powerful we become as marketers delivering results to our clients.
Take time out to read
Taking time out to read in our busy work schedules is part of our culture. We read, eat, chat, and explore what is possible from a marketing and entrepreneurship point of view and it all adds to the culture of the company and our teams ability to be 'smarter' then other marketers who are vying to get their clients brands to stand out in all of the clutter.
Friday's is the best day for a read-a-thon. It's casual Friday across the world at Marketing Eye and we really take the day as being our wind-down to the weekend.
There are many books I buy because of headlines or due to an author, but I know that there are many books that are poorly written by people who are in fact, not experts in the field that they write in.
Turn The Ship Around!
One book that I read several years ago was
Turn The Ship Around! by L. David Marquet,
a retired Captain U.S. Navy. It's a good book for anyone who wants to understand how to turn your own ship around. I find that many companies we work with come to us with a "problem" that needs solving. Knowing what they are going through is paramount.
Do you have read-a-thon's in your office? Or in our case, binge watching sessions with
Suits
and
Scandal?
How does that impact your company culture and performance?