Brandon Reviere - Graphic Designer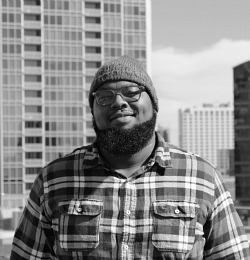 Marketing Eye's Art Director is one cool kid. Not only does he own 200 pairs of sneakers, he also is an avid Instagrammer well known in online circles for his penchant of all things designer.
Brandon Reviere is Marketing Eye's Art Director responsible for the art direction of more than 100 clients. He loves a good brand, and knows how to tell a 'brand story' through pictures, diagrams, infographics and brand identity.
His expertise in illustration, typography and graphic design gives clients an insight on what they could do, rather than limiting their brand's ability to resonate with their demographic. As a graduate of the Art Institute of Atlanta, Brandon is able to consistently deliver innovative and leading graphic and media design. He has expertise in logo design, brand development, print collateral, advertising, multimedia, sales deck presentations, web design and signage.
Brandon understands business and is able to provide clients with a 'Marketing Eye' through his innovation, creativity and design. He has worked on many clients but to give you some idea of how amazing he is at creating brands - check this out.
If you would like for Brandon to look at your brand and help you tell your 'brand story', then contact him on
This email address is being protected from spambots. You need JavaScript enabled to view it.
or ring 404.626.8070.
Contact us
for more information on how Brandon can take your small business to new heights.
Instagram: @jaereviere Linkedin:
breviere

Quick links
Latest Blogs
Valentine's Day is traditionally all about showing that special someone how much they mean to you. You shower them with chocolate and love letters, maybe you even take them to a fancy dinner in the city. Oh, I can feel…

Read more...

I talk to a variety of different business owners daily. From entrepreneurs to Healthcare CEO's, Founders of new technology startups; no matter who I talk to I see the same hesitation when it comes to marketing. You understand the importance…

Read more...