Marketing Eye - Full-Service Marketing Consulting Agency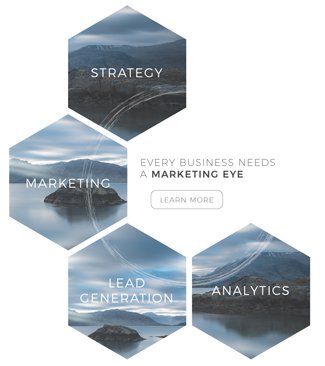 Based out of the Atlanta Tech Village, Marketing Eye Atlanta is your one stop shop for all of your marketing needs. We essentially become the marketing department for small to medium sized businesses at a low monthly fee. Unlike the typical marketing agency, we integrate technologies into our strategy to ensure we deliver measurable results with the companies we work with.
Our business model is simple; we provide businesses with a
marketing manager
and an
outsourced marketing team
dedicated to ensuring that your business achieves its marketing goals. Complete with
branding
, graphic design,
web development
, search engine optimization, social media,
lead generation
, public relations, direct marketing, content marketing, and marketing automation. Marketing Eye is the ultimate results-orientated marketing solution in Atlanta, Georgia.
Marketing Eye is your #1 marketing resource to help achieve and accelerate your business objectives. We execute these goals through a strategic marketing and communications approach aligned with your business outcomes. Marketing Eye Atlanta is well-known for high performance and technology-driven marketing campaigns that deliver results!
Want to find out how Marketing Eye can help your business?
Contact us
now!